Welcome to scottlinux.com – a place to geek out
Primarily a Linux blog though other geeky topics can be found!
---
About scottlinux
Scott lives in Raleigh, NC USA where he works at Red Hat.
This is a personal blog. Content and postings on this site are my own and do not represent opinions of Red Hat, Inc.

scottlinux.com operates over HTTPS using TLS 1.2, HTTP strict transport security (HSTS), and operates over http/2. See the A+ SSL Labs report here. scottlinux.com is HTTPS Everywhere friendly and is also IPv6 enabled! Mail from scottlinux.com supports SMTP-TLS.
View Scott's public gpg key here.

Scott is Hurricane Electric IPv6 Certified (Sage).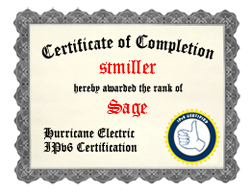 Scott operates a public iperf server located at iperf.scottlinux.com

Scott is a recreational cyclist and bikes on a Giant Escape City (2014).

twitter
linkedin
google profile
soundcloud
contact
---
Publications
A Closer Look at WordPress Password Hashes
AAnval – SIEM by Tactical Flex
Wordfence: Security Plugin for WordPress
The Importance of Securing a Linux Web Server
Security Dangers of Web Management Interfaces
How To Configure Redis Caching to Speed Up WordPress on Ubuntu 14.04
LEMP Stack Monitoring with Monit on Ubuntu 14.04
---
Tech Podcasts
Scott's emails have been featured twice on Security Now:
Security Now 251 | 1:26:35
http://www.grc.com/sn/sn-251.htm (removed from transcript)
---
Security Now 282 | 1:09:05
http://www.grc.com/sn/sn-282.htm
---
Emails from Scott are often read on the Linux Action Show, TechSNAP, BSD Now, and others:
BSD Now 20 | 1:04:06
---
TechSNAP 163 | 1:03:00
---
Coder Radio 103 | 11:30:00
---
TechSNAP 285 | 38:20
---
You can reach Scott via
scottlinux.com/contact
---
---
TOS / Disclaimer
No Liability
Use of information provided from scottlinux.com is at your own risk. scottlinux.com and contributors do not take any responsibility or liability for damages or wrongdoing from information found and provided on this web site.
Copyright
All marks, names, titles, and images are copyrighted by their respective owners. Logos used are within fair use for the purpose of educational use.
User Conduct
Discussion is to remain civil. scottlinux.com reserves the right to moderate and delete offensive content.
Privacy
This website uses no tracking of any kind. No information is shared with anyone. There are no advertisers.
License
Blog post contents are under the Creative Commons Attribution-ShareAlike 3.0 Unported license.
---
scottlinux.com is a facebook free zone and there is no advertising
---